PROJECT OVERVIEW
In 2010, the Ministry of Water Resources and Meteorology of Cambodia (MOWRAM) wished to acquire a weather radar in order to improve its capacity to anticipate and manage the severe weather phenomena that regularly hit the country. True to its global approach, MFI proposed to MOWRAM to combine the deployment of this radar with the implementation of a complete Information System. The objective was to enable the Department of Meteorology (DoM) to significantly improve the quality of its forecasting and warning services to both the general public and the country's main economic sectors.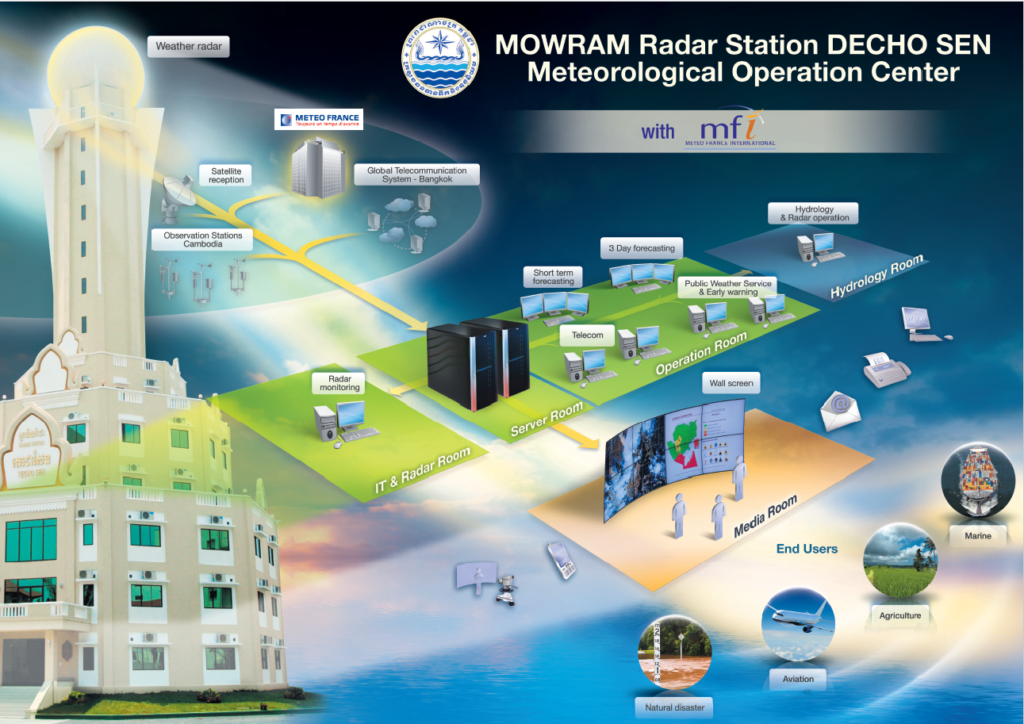 CONTENT OF THE PROJECT
OBSERVATION
INFRASTRUCTURE
The project required the construction of a new building to house the DoM services, as well as the erection of a tower specifically for the deployment of the weather radar. MFI was responsible for :
Designing the new building.
Providing all the installation files.
Supervise the civil works.
INFORMATION SYSTEMS
TRANSMET - Automatic message switching system.
SYNERGIE - Forecasting system.
METEOFACTORY - Public service and early warning system.
Wall of screens.
SUPPORT SERVICES
Consultancy (change management).
Project management
Competency building and training
Technical support (5 years)
PROJECT OUTCOMES
For Cambodia
Better protection of property and people thanks to better quality observations (cf. radar), more relevant forecasts and a more reactive early warning system. Extreme events generated by the Asian monsoon are now easier to anticipate and manage.
More effective support to key economic sectors in Cambodia with increased capacity to generate and disseminate targeted weather products and services.
For DoM
State-of-the-art equipment and information systems to meet the best global standards.
A new user service oriented organization.
Increased level of competence for DoM employees through a comprehensive training program.
Project in pictures