Project Overview
In 2010, the Ministry of Water Resources & Meteorology (MOWRAM), umbrella entity of the Cambodian Meteorological Department (DoM), wished to acquire a weather radar in order to optimize its capacity to better cope with the severe weather phenomena which regularly hit Cambodia. In accordance with its turnkey approach, MFI proposed MOWRAM to enhance the implementation of this radar by the simultaneous deployment of an integrated information system and the implementation of a complete training program for its teams. The objective was to allow the DoM to significantly upgrade the range and quality of services delivered to the wide user community in the Kingdom of cambodia, including early warnings and tailored services to the main economic sectors and general public.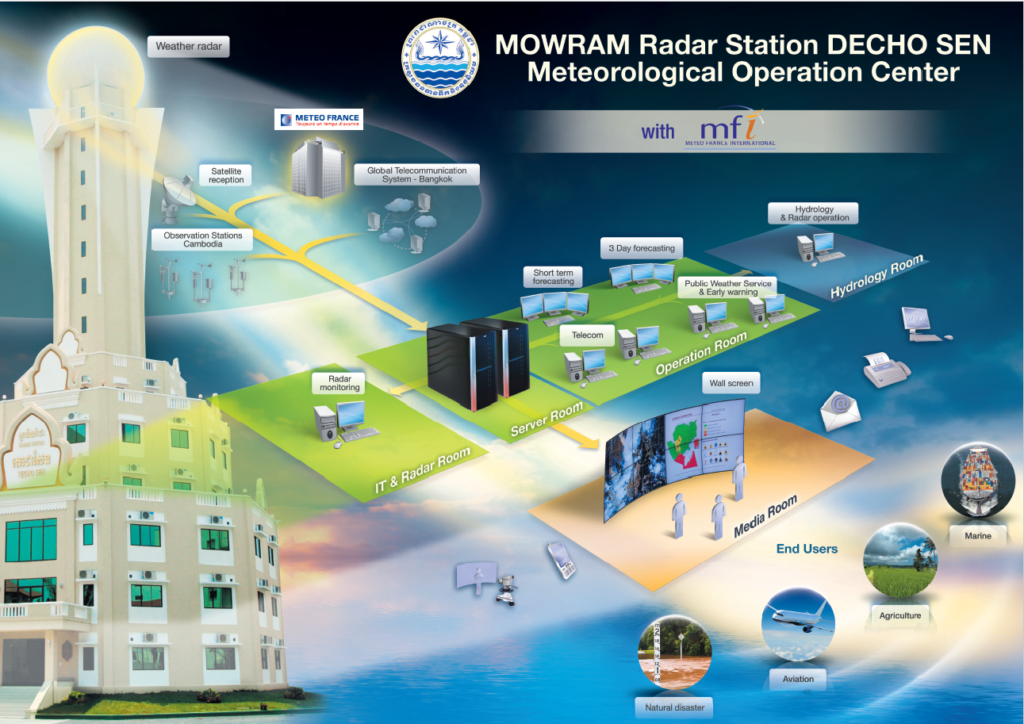 CONTENT OF THE PROJECT
OBSERVATION
Band S Doppler weather radar to ensure very short-range weather bulletin, including wind speed and direction, rainfall intensity forecast.
INFRASTRUCTURE
The project required the construction of a new building for DoM' activities, also including a specific tower for the weather radar.
MFI was in charge of:
Preparation and delivery of:
>> building draft design (set of functional drawings with proposed position for all equipment inside DOM HQ and the new building, describing also all facility constraints and mechanical requirements).
>> installation files (al informaiton related to equipment to be set-up, cabling to be done, furniture to be supplied, etc.)
These documents were by DoM to prepare the building prior to the installation of systems by MFI.
Supervision of civil works
INFORMATION SYSTEMS
TRANSMET - Automatic Message Switching System
SYNERGIE - Forecasting system
METEOFACTORY - PWS/EWS system
Video wall display
SUPPORT SERVICES
Consultancy (assistance to transition, etc.) & Project management
Integration
Capacity building & Training
Technical support (5-year dedicated contract)
Project outcomes
For Cambodia
Better protection of people and goods thanks to better observation data (cf weather radar), more accurate forecasting and efficient early warning: the extreme weather phenomena generated by the Asian monsoon (strong surface winds, strong precipitations causing flash floods) can now be correctly anticipated.
Better support to the national economy with a National Met Service now capable of producing and disseminating customized meteorological products and decision-aid tools for Cambodia's major economic sectors.
For DoM
Reaching international standards  (including WMO standards) in terms of meteorological practices and services thanks to a complete modernization of DoM's met ecosystem.
Thanks to a new "user-oriented" organization and high-end technical solutions, drastic improvement of service capacity to the Cambodian community of users, from general public to all major economic sectors of the Kingdom.
Higher level of skill of DoM's staff thanks to extensive capacity building and thanfer of know-how program.
Project in pictures